LSI ALK Orange/LSI EML4 (Green)
« back
Probe location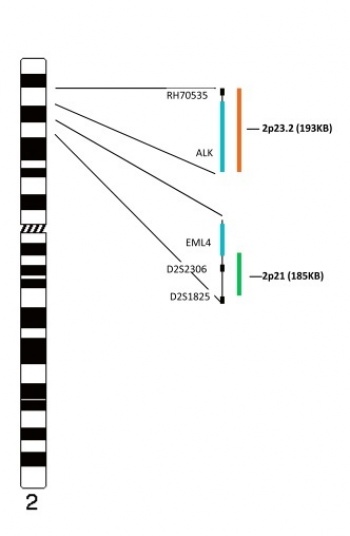 Probe description
The LSI ALK (Orange) / LSI EML4 (Green) FISH kit is intended for determination of inversion of the ALK gene and EML4 gene in human tissues using fluorescence in situ hybridization (FISH).
The LSI ALK (Orange)/LSI EML4 (Green) FISH kit contains two directly labeled fluorescent DNA probes in hybridization buffer. The fluorochrome Orange labeled ALK probe covers the chromosome 2p23 region. The fluorochrome Green labeled EML4 probe covers the chromosome 2p21 region.
The ALK (Anaplastic lymphoma kinase) gene is localized at the short arm of chromosome 2 and encodes the transmembrane tyrosine kinase receptor. The ALK gene was described in association with translocation in anaplastic large-cell lymphoma (ALCL). Recently, the inversion (translocation) of ALK gene with EML4 gene was found in small subgroup non-small-cell lung carcinomas (NSCLCs). The EML4-ALK translocation is predictor of response to the tyrosine kinase inhibitor crizotinib in NSCLC.

FISH results
A normal cell hybridized with the LSI ALK (Orange) / LSI EML4 (Green) (1A). The cell in this image shows 2 orange signals (ALK) and 2 green signals (EML4). An abnormal cell (1B) shows the one orange, one green and one orange/green fusion signal, which indicates the EML4-ALK inversion/translocation.
| | |
| --- | --- |
| | |
| A | B |
Figure 1. The assessment of ALK gene status in FFPE tissue (lung cancer patient tissue).
Information
| | | | | |
| --- | --- | --- | --- | --- |
| Name | Catalogue number | Packing size | Prize | Information for use |
| LSI ALK (Orange)/LSI EML4 (Green) | IM_041 | 200μl | na dotaz | |
References
Koivunen JP, Mermel C, Zejnullahu K, et al.;EML4-ALK Fusion Gene and Efficacy of an ALK Kinase Inhibitor in Lung Cancer. Clin Cancer Res 2008 July 1, 14:4275-4283.
Soda M, Choi YL, Enomoto M, et al: Identification of the transforming EML4-ALK fusion gene in nonsmall-cell lung cancer. Nature 2007 448:561-6.