LSI TOP2A (Orange)/CEP17 (Green)
« back
Probe location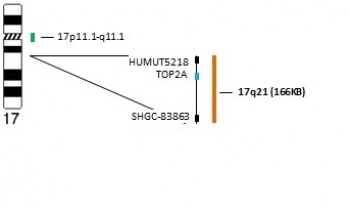 Probe description
The TOP2A FISH kit is intended for the determination of TOP2A gene amplification in human tissues using fluorescence in situ hybridization (FISH).
The TOP2A FISH kit contains two directly labeled fluorescent DNA probes in hybridization buffer. The fluorochrome Orange labeled TOP2A probe covers the chromosome 17q21 region. The fluorochrome Green labeled chromosome enumeration CEP17 probe covers the chromosome 17p11.1-q11.1 region.
The TOP2A (DNA topoisomerase 2-alpha) gene encodes DNA topoisomerase II-alpha, which is involved in processes such as replication, transcription, chromosome condensation and chromatids separation. TOP2A amplification is frequent in breast cancers and occurs also with Her-2/neu amplification. TOP2A, Her-2/neu genes co-amplification can be a useful predictive marker of responsiveness to anthracycline based chemotherapy regiments.
FISH results
Normal cell (Fig.1a) shows 2 orange signals (TOP2A). An abnormal cell (Fig.1b) shows higher copy number of TOP2A gene.
| | |
| --- | --- |
| | |
| a | b |
Figure. 1: Assessment of the copy number of TOP2A gene and copy number of chromozome 17 on FFPE tissue (breast cancer patient tissue).


LSI TOP2A


CEP17
a) 2 copies of TOP2A gene and 2 copies of chromosome 17.
b) 2 copies of chromosome 17 and higher copy number of TOP2A gene (amplificaton).
Information
| | | | | |
| --- | --- | --- | --- | --- |
| Name | Catalogue number | Packing size | Prize | Information for use |
| LSI TOP2A (Orange)/CEP17 (Green) | IM_031 | 200μl | upon request | |
References